Groupthink doesn't live here, critical thought does.
This ad-free website is dedicated to Agnès Varda and to Luis Buñuel.
Get cool rewards when you click on the button to pledge your support through Patreon.
Thanks a lot acorns!
Your kind generosity keeps the reviews coming!
Gross political exploitation is not a label I apply lightly, but it fits for this terribly disappointing film. The term applies to a picture that, however well meaning the intents of its producers (including Darren Aronofsky, a filmmaker I deeply respect and admire), misses its mark by a mile rather than by degree.
I hadn't yet written this review when I spoke candidly with Mr. Aronofsky about what I view as an ill-conceived movie further hobbled by an inarticulate script (by newbie screenwriter Noah Oppenheim), ineptly executed by miscast actors.
It might not be his fault, but Peter Sarsgaard's abysmal portrayal of Bobby Kennedy (complete with an utter disregard for Bobby's unmistakable accent), breaks this pseudo brief biopic hopelessly in half.
Oppenheim leaves no hackneyed screenwriting trope behind. Billy Crudup plays "The Journalist" (that's right, Oppenheim couldn't be troubled to give this character a name) tasked with interviewing Jackie Kennedy shortly after that fateful day in Dallas when America lost all veneer of innocence that the country's collective subconscious imaged it possessed in the post McCarthy era.
Composer Mika Levi's sad-trombone score sets an obnoxiously self-aware and saccharine atmosphere of melancholy for this film's tone. Talk about simultaneously dull and heavy-handed; you'll be rolling your eyes and sighing a lot.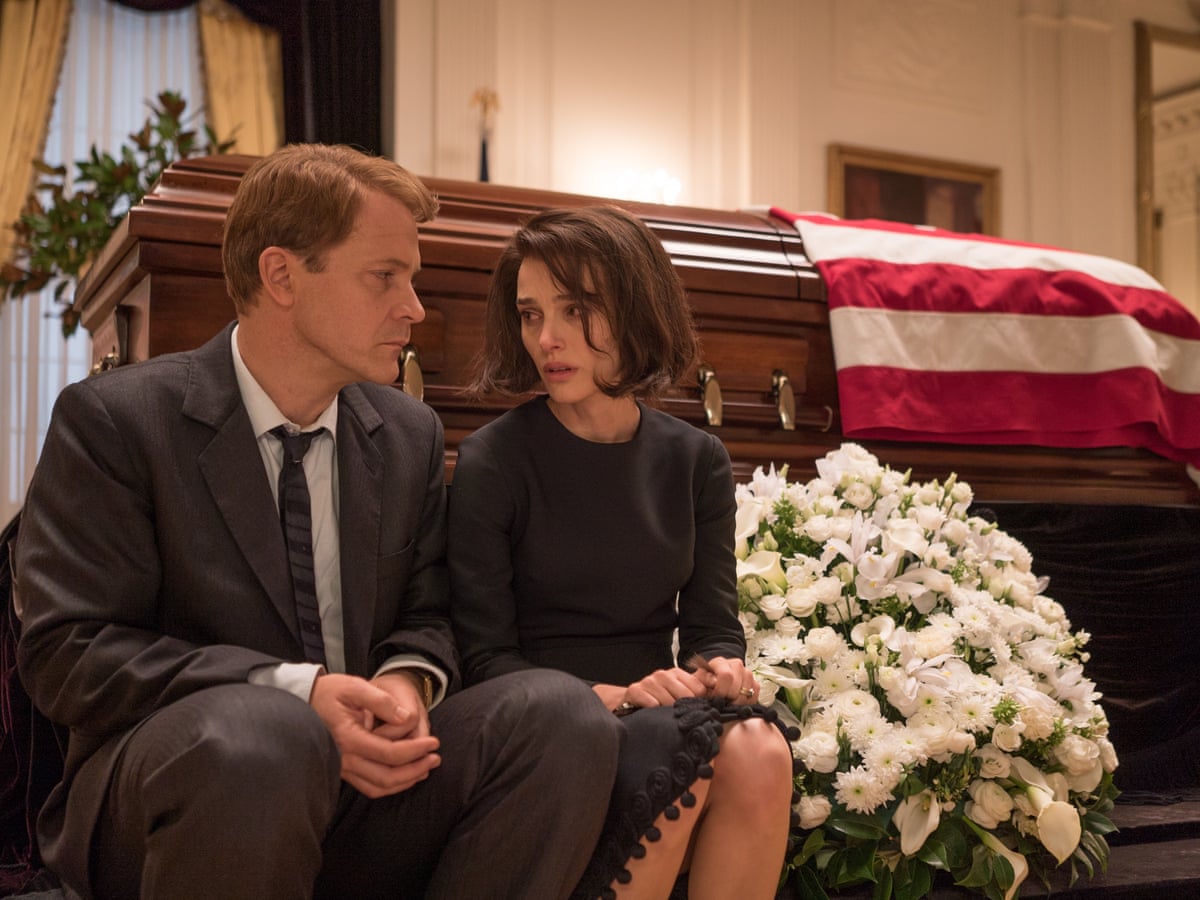 In the days following JFK's assassination Jackie and the writer sit on the spacious back porch of her lakeside mansion in Hyannis Port, Massachusetts. Crudup's character, like that of the priest (played by William Hurt) is but a cardboard narrative place-keeper.
Our uncomfortable reporter is here to enable Jackie's immediate recollections of the horrific experience of having her husband's brains blown out as she sat beside him in the back of a limo passing through Daly Plaza.
Cut to Jackie rehearsing with her acting coach for the famous 1961 CBS television tour of the White House that gave the American public a stiff if ostensibly personal look at Jackie Kennedy's efforts to beautify the White House in her own style. If the film weren't already sinking, this overwrought sequence of imitation throws the anchor that will pull it toward the ocean's bottom.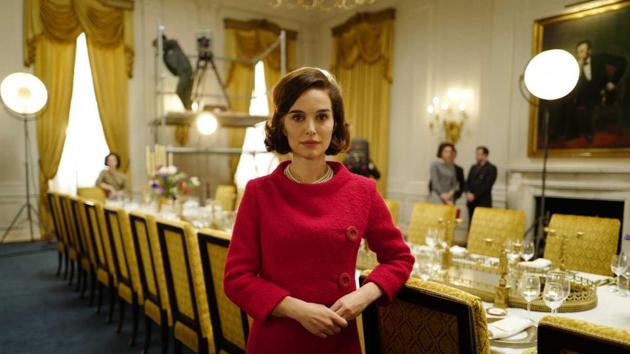 Jackie tells the reporter that she "loved that house and wanted to share it with the American people." How is it that mere hours after her husband's death, she is fixated on physical possessions in a place that she will soon be denied from entering? This burning question hovers over the film, and paints Jackie Kennedy as a petty woman consumed more with grief over her loss of a fantasy lifestyle she calls "Camelot," than over the hope for her country's future that John Fitzgerald Kennedy promised to the American people, and to the world.
Aside from director Pablo Larrain's gratuitous insistence on repeatedly showing gory details of John F. Kennedy's assassination, because "that's what really happened," the filmmaker punishes the audience with shrill scenes of Jackie dressing down Bobby Kennedy as if she hated her husband's brother. Peter Sarsgaard's already unlikable, and unrecognizable, portrayal of the charismatic Bobby Kennedy and Natalie Portman's bitchy portrayal of Jackie turn the movie into a weird hate-fest.
One of the first things I told Darren Aronofsky was that, "if my last name were Kennedy, I would be livid" over this film. He did say that older generation audiences had posited similar complaints. I didn't say what an injustice I thought the film did to Jackie Kennedy, but I should have. He assured me that the members of the Kennedy family who had seen the film were not insulted as I was. I said I was relieved to hear such a response. 
However, that still doesn't change my opinion that this film misrepresents every character it displays against a backdrop of misappropriated artistic license that leverages gore and infighting to make its muddy points.
I only lived through the last four months of John F. Kennedy's administration, but I have always considered that period as the most fortunate of my life. There is no aspect of this film that I find recognizable to the Kennedy administration, or to Jackie Kennedy. I deeply regret having watched it.